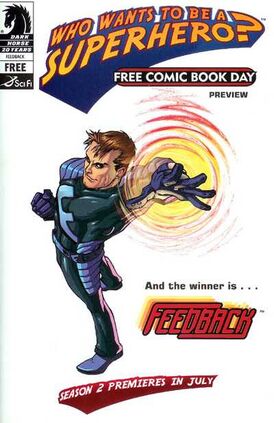 Feedback #0 is the first of two issues written by Stan Lee about Matthew Atherton a.k.a. Feedback who was the winner of the first season of Who Wants To Be A Superhero.
Matthew Atherton is lying near death when his mind flashes back to how his story began. It was his father's own death which led him to retreat into the fantasy of comic books and video games. He operates as Tech for hire when things start to get interesting, Matt is pummelled a few times in the preview issue and readers don't see him as Feedback. Other characters of importance include his future wife, Sarah Blevins and a potential new employer called Ironside who appears to be from the government.
Characters
Edit
Ad blocker interference detected!
Wikia is a free-to-use site that makes money from advertising. We have a modified experience for viewers using ad blockers

Wikia is not accessible if you've made further modifications. Remove the custom ad blocker rule(s) and the page will load as expected.